One of the best ways to make sure that you'll always be safe when you go for a drive in Kingston or Wilkes-Barre is by maintaining your vehicle's braking system. Without well-functioning brakes, your car won't be able to perform the way you need. Your safety, as well as the safety of your passengers, may be at risk.
When you notice that your brakes aren't as responsive or effective as they once were, you need to schedule repairs with a qualified professional as soon as possible. Find out how you can easily find brake repair near me and learn about some common braking system problems that require repair services.
Why Are My Brakes Squeaking?
When You Need Help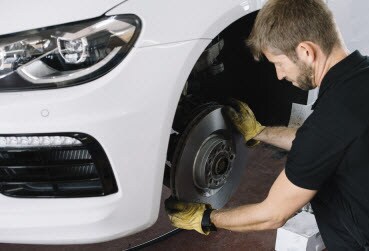 If you suspect there might be an issue with your braking system, it's important to schedule brake repair near me right away instead of delaying service until the problem can't be denied.
However, if you're not familiar with the myriad warning signs of a braking issue, it can be hard to know when it's time for a service appointment. Let's take a look at a few of these warning signs so that you never wait too late to have your brakes fixed.
When you apply your brakes and your car pulls to one side, you should visit your service professional right away. Other warning signs you should not ignore are strange noises when you brake or noticeable vibrations. Finally, if your brake pedal feels sticky, or if it drops closer to the floor than normal when braking, it's time for repairs.
Installing New Brake Pads
While your braking system may need several repairs, the most common is replacing your old brake pads. By their very nature, brake pads will wear out over time, and once they reach a certain point of wear, they will no longer be able to stop your vehicle. When you visit your service technician complaining of braking problems, the quality of your brake pads is one of the first things they will check.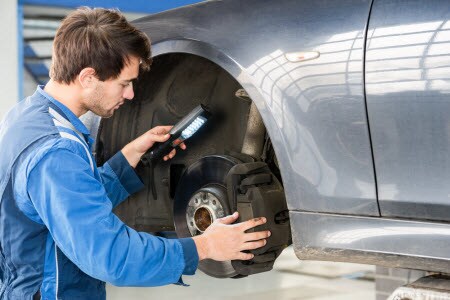 If your brake pads are not the issue, several other parts of your braking system can be examined. For instance, your repair professional could inspect your brake line to make sure that it is attached correctly and that there are no holes or cracks that are leaking brake fluid. Your technician may also perform a disc inspection on all four of your wheels to make sure nothing interferes with braking.
Schedule Brake Repair Near Me
When it comes to your car, almost nothing is more important than having a dependable braking system. The moment you notice your brakes aren't performing the way they should, schedule brake repair near me with the top-notch service and parts department at Wyoming Valley VW.
The Wyoming Valley VW service team is ready to help you with all your repair needs, including getting your braking system back in tip-top shape. We can replenish your braking fluid, replace your old brake pads and perform other repair services so you can drive around Wilkes-Barre and Kingston with confidence. Come see us today to learn more about our maintenance services and to schedule an appointment.