If you're like most car owners in Wilkes-Barre and Kingston, you want to preserve your vehicle however you can. In addition to scheduling regular oil changes with your maintenance professionals, it's important that you're regularly checking your tire tread.
The tread of your tire can have a direct impact on the performance of your vehicle, and when your tread depth is too low, it can reduce your traction, handling and more. Here are some tips, provided by Wyoming Valley VW, to help you learn how to check your tire tread so that you can be sure that you're safe the next time that you go for a drive.
Facts About Tire Tread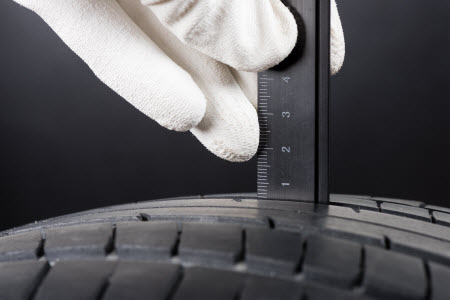 Before you can check your tire tread, it's important that you understand a few facts about your tires and their proper tread depth.
Tires in the United States are measured using 32nds of an inch. When your tire is brand new, its tread depth will typically be 10/32 of an inch. The tread depth for tires designed for driving off-road or in the snow will usually be deeper. As your tires wear over time, the tread depth will reduce, and when your tread reaches 2/32 of an inch, your tire is considered bald and will need to be replaced.
The Penny Test
Now that you know the ins and outs of tread depth, it's time to learn how to check your tire tread. Although there are several methods to check your tread depth, the easiest solution is using the Penny Test.
All you need to perform the Penny Test is a standard penny. Take the coin and insert it into your tread, making sure that President Lincoln's head is facing down. If you can clearly see the top of Lincoln's head, it means your tires have worn down to the point that they need to be replaced. Performing this test on a regular basis should help you replace your tires before they affect your safety or the performance of your vehicle.
Other Tread Tests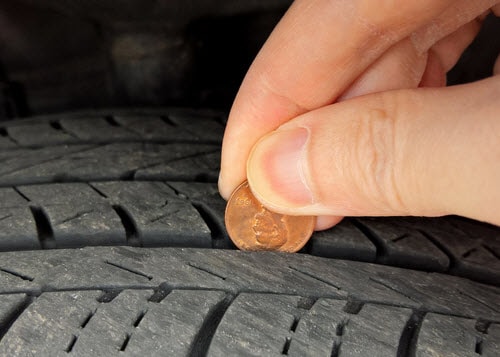 While the Penny Test is fairly reliable, there are several advanced solutions you could choose for measuring your tire's tread depth.
For instance, if you want to be able to check your tire tread without hunting for a penny, you could invest in a tread depth gauge. These tools are very easy to use and will provide an accurate tread depth reading. If you have commercial tires on your car, these tires should have a tread wear indicator bar. When the tread of your tire is no longer level with the indicator bar, it's time to think about a replacement.
Help Checking Your Tire Tread
Keeps this tips in mind, and you should be able to keep track of the depth of your tire tread. However, if you have questions about how to check your tire tread or need help with this important task, you can visit the Wyoming Valley VW service and parts department.
Our service technicians know how important it is to have a reliable set of tires when you're driving around Kingston and Wilkes-Barre, and they are ready to help you check your tread so that you'll know when it's time for replacement tires. Contact Wyoming Valley VW today.