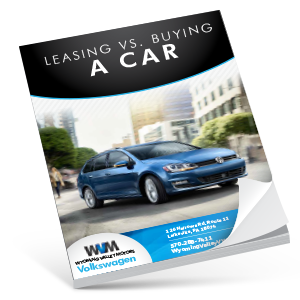 Vehicle financing may not be your favorite part of the car-buying process. However, it's a necessity, and there's a lot that you'll have to consider during it, such as:
How do vehicle loans work?
What are the pros and cons of leasing vs. buying?
How do I know which is right for me?
Fortunately, Wilkes-Barre and Kingston drivers can find the answers to all these questions just by downloading this Leasing vs. Buying a Car eBook from the Wyoming Valley VW team. It should answer all your questions and more.
We offer all our eBooks for free just to make the research process a little bit easier for you. And they're very easy to download, too. All you have to do is fill out the form on this page, and you'll be well on your way. Download your FREE Leasing vs. Buying a Car eBook today!